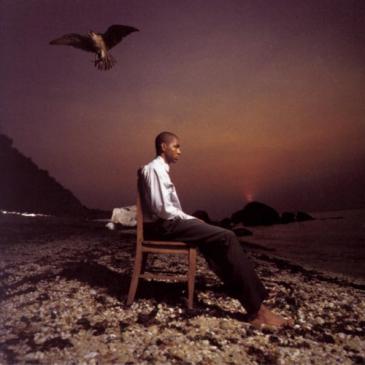 The Beautyful Ones Are Not Yet Born
Tracks
The Beautyful Ones Are Not Yet Born
Other credits
Produced by Delfeayo Marsalis
Executive Producer Dr. George Butler
Recorded and Mixed by Patrick Smith
Recorded May 16-18, 1991 at CTS Studio A, Wembly, England; June 13, Mastersound Studios, Astoria, NY; June 24 RCA Studio B, New York, N
About the Album
The Beautyful Ones Are Not Yet Born
"For Branford Marsalis," writes producer Delfeayo Marsalis in the liner notes to THE BEAUTYFUL ONES ARE NOT YET BORN, his brother's seventh album for Columbia "the documented history of American music is one that must be acknowledged and addressed, as well...you must be familiar enough with the whole of music to comfortably extract the elements that are the most appropriate for each musical situation."

To that end, Branford's latest album returns to the trio format -- featuring the leader on saxophones, bassist Robert Hurst and drummer Jeff 'Tain' Watts -- for the first time since 1989's TRIO JEEPY, in which he and Watts were joined by legendary bassist Milt Hinton. And each composition on the new program, notes Delfeayo, provides "a different perspective on American society in 1991."

"Roused About," for example, was inspired by the late saxophonist Charles Rouse, long a mainstay of the Thelonious Monk Quartet: while the free melody of "Gilligan's Isle" should need no elucidation. The challenging nature of "Xavier's Lair" (it "has no changes," says Delfeayo), the oddly timed "Citizen Tain," and the title ballad (the latter two showcasing one of today's finest drummers) are all indications that this trio has no fear of pushing the jazz envelope to maximum tension.

THE BEAUTYFUL ONES ARE NOT YET BORN is distinguished by a couple of special guest performances: Wynton Marsalis joins on trumpet for "Cain & Abel," in which he and his brother engage in "monologue, dialogue, call-and-response, and interdependent logic," as Delfeayo notes. And young British saxophonist Courtney Pine enlists for "an old-fashioned tenor battle" on "Dewey Baby," from a riff by saxophonist Dewey Redman.

From his early dates with Wynton in the award-winning lineup of Art Blakey and the Jazz Messengers, to their time together with the Herbie Hancock Quartet and VSOP II, then Wynton's first four solo albums, Branford earned critical and professional recognition that would set the stage for his thriving solo career as a leader. His eclectic nature surfaced on his own Grammy-nominated jazz and classical recordings, complemented by session work with dozens of artists ranging from Miles Davis and Dizzy Gillespie to Tina Turner and Teena Marie.

THE BEAUTYFUL ONES ARE NOT YET BORN is Branford's first new album since the simultaneous release in July '90 of Music From Mo' Better and CRAZY PEOPLE MUSIC, also by the Branford Marsalis Quartet. The new album is also Branford and Delfeayo's sixth excursion together. "Anybody looking for the first jazz trend of the 1990s, here it is," commented Peter Watrous in a New York Time article that discussed the music of Branford and his contemporaries. Watrous described their approaches as, "the first step toward something genuinely new."

Activities through the spring ranged from a controversial appearance on "Yo! MTV Raps" with Gangstarr to judging the 3rd Annual Billboard Song Contest. Branford participated in the television documentary, "Story of a People: Expressions In Black," and wrote the music for a tv pilot, "John Salley and Friends - Be the Best You Can Be." There was also the music for a Levi's TV campaign, directed by Spike Lee, and featuring musicians Jerry Garcia, Bruce Hornsby, and Rob Wasserman. But springtime could not be complete without playing the National Anthem at a packed ballpark -- in Branford's case, opening day for the Cleveland Indians. Play ball!