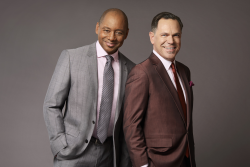 BRANFORD MARSALIS QUARTET WITH KURT ELLING UPWARD SPIRAL REVIEW – MASTER SAXOPHONIST MEETS GREAT JAZZ VOCALIST
Branford Marsalis has mastered most tricks of the sax-player's trade – traditional song-playing lyricism, an advanced post-Coltrane technique (lately coupled with a classical one), and long experience of playing with singers, notably Sting in the 90s. All that colours this memorable meeting between Marsalis' quartet and Kurt Elling, one of the best jazz vocalists on the planet. Elling mixes his signature rhythmic hipness with (slightly stagey) jive-talk on the Porgy and Bess classic There's a Boat Dat's Leavin' Soon for New York, lets loose his Mark Murphy-inspired scatting ingenuity on Rollins' Doxy, and illuminates, with unselfconscious poignancy, the downbeat intensity of Sting's Practical Arrangement. Pianist Joey Calderazzo pounces on Elling's phrases all over the set; Marsalis plays warm harmonies and hooty tenor-sax fills around him on Blue Gardenia, and supple soprano on There's a Boat; and saxist and singer share a beautiful duo dialogue on I'm a Fool to Want You. Elling and Marsalis fans alike won't want to miss it.
Four out of five stars.