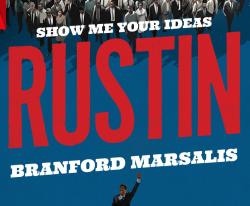 Composer Branford Marsalis on His R&B Approach to Writing 'Rustin' Score and Big Band Sound of "Show Me Your Ideas"
In Rustin, George C. Wolfe and Colman Domingo recount how one man helped make a movement.
Set to release on Netflix Nov. 17, the biopic — which features a script from Julian Breece and Dustin Lance Black — traces the life and work of civil rights activist Bayard Rustin, a gay Black man and a key architect of the 1963 March on Washington.
The emotional thrum that underscores Rustin's triumphs and challenges amid one of the country's most significant moments in history, is captured through Grammy-winning jazz and classic artist and composer Branford Marsalis' score. Captured in multiple cities — New York, Los Angeles, San Francisco, Charlotte and New Orleans — the soundtrack was recorded digitally, then mixed to analog 2-track before being mastered digitally.
That includes the track "Show Me Your Ideas," one of the score's more energetic contributions. The song seemingly captures the initial rhythm of an idea and the eventual buzz of collaboration. It was, according to Marsalis, the byproduct of a scene that required he "create a sound that delivered enthusiasm sonically."
"There are plenty of versions of that in the 60s. Blue Note Records required most of the musicians they hired to record to have at least one funky blues song on their records," he continues. "Listening to Blue Note records by Lee Morgan, Hank Mobley, Art Blakey, Herbie Hancock to name a few, gave me a great sonic template to create the sound that we felt best fit the scene."
The track's big band approach helps it fluctuate between a single and collective sound — something that speaks to the larger reality of Rustin's work within the Civil Rights Movement. A singular activist could conceive of a particular initiative or effort, but to carry it out on the scale necessary to create change, they'd need to eventually be open to and rely on others.
"Much of what I write has roots in the music that I've listened to. This is kind of an old R&B way of writing: start with the bass, then the drums, then the other instruments," Marsalis says. "One version of this style — off the top of my head — is Herbie Hancock's song 'Chameleon.' I didn't think of it as a metaphor, but I was mindful of the fact that the scene starts with Bayard speaking alone, and gradually more and more of the students participate in the dialogue."