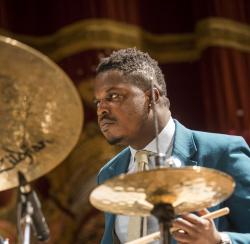 The New York Times: The Playlist
Branford Marsalis Quartet, 'Nilaste'

Justin Faulkner has a thrashing, teeming style on the drums — he attacks them — yet he exudes a reassurance that basically all the best drummers have. In striking that balance, he's like Art Blakey and Elvin Jones. It might have something to do with the fact that Faulkner has effectively been taking a seminar in the music's lineage for the past 10 years as the youngest member of the pre-eminent saxophonist Branford Marsalis's quartet (he's still only 27). On "The Secret Between the Shadow and the Soul," the group's third album featuring Faulkner, he shows he's gone from being the most startling thing about this quartet to the best thing about it.