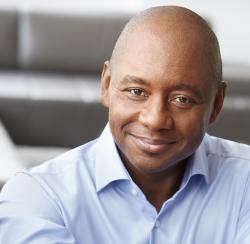 Tar Heel: Branford Marsalis champions jazz for all
DURHAM
Branford Marsalis grew up with the sounds of jazz music literally rising from the streets, wafting through the windows of the New Orleans home that would spawn a series of jazz giants.

And yet, the Grammy-award winning saxophonist, composer and bandleader's career is marked by his versatility. Marsalis has played with the Grateful Dead and symphony orchestras, written Broadway scores and starred in Spike Lee movies. He started a record label, hosted a radio show and led the Tonight Show Band.
When he moved to Durham in 2002, Marsalis brought more than his varied talents and the famous surname. He also brought a legacy of service that he traces back to his musical family – one that has made its mark in the Triangle as well as his home town.
Marsalis regularly donates his time and talents to local causes, most notably the N.C. Symphony. He's organized and performed at several concerts to benefit the organization, including the upcoming Branford Marsalis and Friends show on Tuesday that will also feature Rhiannon Giddens and The Kruger Brothers.
He's also worked with local libraries on literacy programs, and shares his musical prowess with students at N.C. Central University, where he is an artist in residence and coach for young jazz musicians.
His music label operates a nonprofit arm that brings jazz musicians to high school and college classes. After Hurricane Katrina, he helped lead the creation of a Musician's Village in New Orleans' Ninth Ward, including the Ellis Marsalis Center for Music, a cultural preservation effort named after his father.
"Branford is an incredible musician, but he's also very involved in bringing people together and committed to building a community around the music," says Sandi Macdonald, president and CEO of the N.C. Symphony. "He's really become a leader and an invaluable part of the local arts community."
Access to the music
The Marsalis family is often referred to as "The First Family of Jazz," a title Marsalis tends to downplay, though he and three of his five brothers are professional musicians.
"It was six wild boys and my mother losing her mind," he says. "Music wasn't the focal point. We weren't the Von Trapps."
Marsalis says his father, a jazz pianist and music professor, was clearly a musical role model, though he gives New Orleans, with its vibrant music scene and school music programs, a good part of the credit.
"We had access," he says. "Very few kids now play in youth orchestra and brass band and play R&B and piano in a rock 'n' roll band. There was always music in the streets, everywhere."
Still, he wasn't sure he would be a professional musician when he left New Orleans to study at Southern University. Even when he went to Berklee College of Music in Boston, he says it was with an interest in the production side of the business.
At the time, Marsalis' musical ambition was to play saxophone in an R&B band. But a visit to his brother, Wynton, who was playing with drummer Art Blakey's band, changed his mind.
"I suddenly wanted to learn to play jazz," he says.
He started listening to jazz records and sitting in on sessions in the late 1970s, and by 1982, he was playing baritone saxophone with Blakey's band. When Wynton Marsalis started his own band, Branford joined.
His career expanded from there in unexpected ways. He formed the Branford Marsalis Quartet, which he still leads. He also recorded albums with Sting and Bruce Hornsby and other popular artists.
He expanded his reach into film, television and the stage, earning numerous honors along the way. He also taught jazz at several universities.
Since 2000, he's increasingly focused on classical music, playing with the New York Philharmonic and others, including the N.C. Symphony.
Volunteering
Marsalis is at home in suits and bowties as a performer of music that many view as high art. But he's no snob. He is plainspoken, prone to cursing, and an advocate for music that can reach anyone.
The key, he says, is for the audience to feel the emotional impact of the music even if they don't understand the complexities that go into making it.
"Playing music is like selling microwaves," he says. "What do you know about microwave technology? People just want their food to get hot. People know what they like or don't like."
That down-to-earth impulse is also partly what drew him to Durham, a town that reminded him of New Orleans with its gritty cosmopolitanism when he visited to play a gig in the 1990s.
He moved there in 2002, and in 2006, he joined the faculty of N.C. Central University as an artist in residence, where he teaches, coaches and plays alongside students in the university's jazz program.
He says the music scene has developed since he arrived, providing his students with more opportunities to play.
Marsalis also started to see ways he could use his talents to volunteer in the community, something his parents often did.
"My parents believe in civic responsibility," says Marsalis. "As I got older, it was just something that was natural to me."
After Hurricane Katrina in 2005, he teamed with childhood friend Harry Connick Jr. to create Musician's Village, donating funds from several musical ventures to the cause.
The nonprofit arm of his record label runs that effort, as well as the Marsalis Jams program, which seeks to expand the reach of jazz music by bringing workshops, performances and jam sessions to high schools and colleges.
Marsalis says he joined the board of the N.C. Symphony in part because he was impressed with its reach – performing throughout the state as well as educating schoolchildren on classical music.
He's also on the board of the Holt Brothers Foundation, which aims to help families in which a parent has cancer. Marsalis will be playing a concert to benefit that group in August.
As his career progresses, Marsalis says educating people about music has become increasingly important to him, a way to expand both the number of musicians and the size of the audience. He says he'd like to see his N.C. Central students become music teachers as well as musicians.
"Jazz and classical music need people who are advocates for the music more so than they need players," he says. "You need teachers who will teach young students to listen."
Branford Marsalis
Born: August 1960, New Orleans
Residence: Durham
Career: Musician, composer and bandleader; founder and head, Marsalis Music; artist in residence, N.C. Central University
Awards: North Carolina Award, N.C. Department of Cultural Resources, 2011; Jazz Masters Award (with his father and three of his brothers), National Endowment for the Arts, 2011; three Grammy wins for performances and recordings
Education: Studied at Southern College and Berklee College of Music, Boston; honorary degrees in music from UNC-Chapel Hill and Michigan State University
Family: Wife Nicole; children Peyton, Thais, Reese
Fun Fact: Marsalis says his ability to collaborate stems from the fact that he played a lot of rock and R&B in his youth. "I grew up playing with guys who don't read music, so I learned to play by ear, and to know when you're supposed to play," he says. "I would leave some space and not get in the way."