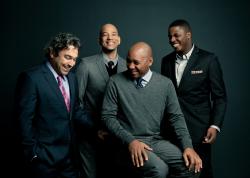 Twin Cities Jazz Festival is larger than ever, with big names, more stages
Saxophonist Branford Marsalis and his quartet recently released an album of new material. So, will Marsalis and his mates be playing music from "4 MFs Playin' Tunes" when they perform Friday evening in Mears Park at the 16th annual Twin Cities Jazz Festival?
"That will depend on how we feel," said Marsalis, who places a high value on the importance of "being in the moment," and the spontaneous, on-the-fly creativity that is the essence of jazz.
If the three-time Grammy winner plays tunes from the new album at his festival appearance, they may sound somewhat different from the way they were recorded in the studio. Musicians like Marsalis and his mates don't consider compositions to be static creations — they should evolve and improve over time as they are played live.

Marsalis leads a quartet that has stayed together longer than many modern jazz groups, with pianist Joey Calderazzo, bassist Eric Revis and the youngest member, drummer Justin Faulkner. There's a widely accepted idea in the jazz world that the longer a band stays together the more it develops the ability to collectively and spontaneously create good music,onstage.
But familiarity alone "doesn't do it," said Marsalis, who divides his time between the jazz and classical music worlds. A willingness to risk failure is important.

"A lot of people have been playing together for a long time and don't do that. You have to dedicate yourself to the idea of what improvisation really is. You have to be willing to sound bad at something (playing a new tune) before you get good at it. When you have four people dedicated to doing that, it's magic."
When he assembled his current band, Marsalis had reasons for choosing each musician. Calderazzo "has a great sound on the instrument, which separates him from many of his colleagues, and he also plays with absolute intensity, which also separates him from many. And he can play a ballad and move people to tears," Marsalis said.
Upright bass player Revis "plays bass the way it was played 70 years ago — as a percussive, melodic instrument. In combination, he and Justin propel a band in a way that is really infectious," Marsalis said. Drummer Faulkner joined the quartet four years ago as "a kid with a lot of raw talent who didn't have a particularly large or astute jazz vocabulary. But it's pretty incredible what he can do, now," added Marsalis, a former bandleader for Jay Leno's "Tonight Show."
Along with festival organizer Steve Heckler, one of the people most responsible for helping make the free, summertime event a success over its 16-year history has been pianist Jon Weber, who has performed at the last 15 festivals.