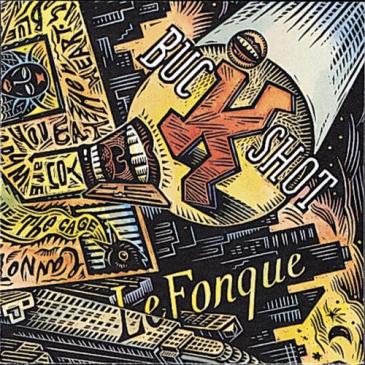 Buckshot LeFonque
Tracks
Ladies & Gentlemen, Presenting...
I Know Why The Caged Bird Sings
Mona Lisas (And Mad Matters)
B. Marsalis, C. Martin, K. Campbell, W. Henry, M. Witter
Some Cow Fonque (More Tea, Vicar?)
Some Shit @78 BPM (The Scratch Opera)
K. Campbell, W. Henry, M. Witter, C. Martin
B. Marsalis, C. martin, R. Dacosta, V. Wooten
Other credits
Produced by Branford Marsalis, DJ Premier, Blackheart

Recorded at Sony Music Studio, Signet Sound Studio, Los Angeles, CA; Ocean Way Recording, Hollywood, CA; The Process, Greensboro, NC
About the Album
Buckshot LeFonque
As long as the grass grows and the saxman blows, there will be those who insist on sorting even the most adventurous music into neat and compact categories. Fortunately, Branford Marsalis will always be around to shove his square pegs into their round little pigeonholes. Most recently, the heralded saxophonist teamed with Gangstarr's DJ Premier to create the Columbia debut album BUCKSHOT LEFONQUE, perhaps his most undefinable work yet... unless one considers virtuoso performances and sure-footed composition categories all their own.
With a hiatus from his duties as music director on The Tonight Show, Branford is set to take Buckshot LeFonque on the road for an extensive U.S. spring tour. The band has already performed two well-received showcases at New York's Supper Club last July, and L.A.'s House of Blues in October of 1994, so Buckshot LeFonque is ready to rock the house nationwide. Of course, that's something Branford has grown quite accustomed to over the years.
Though some have tried to place BUCKSHOT LEFONQUE somewhere between Jazz and Hip Hop, Marsalis himself rejects their efforts. "Since this album was released," he says, "I've read a lot of things about it. People talking about the album, trying to pin it down... categorize it. Some guy at my record company was listening to it and said, 'What is this record trying to say to me? Is it saying, I want to be jazz? Is it saying, I want to be hip-hop? Is it saying, I want to be R&B or pop ballads?' I said, "I think it wants to be music. Musicians like me who listen to and play all kinds of music have to resist the urge to ghetto-ize music. Music is music, and my mission is to try my best to de-ghetto-ize it, to try to take the best from all genres and synthesize them into something different. You play the music in your heart and that's what this is. De-ghetto music cannot be defined by the usual list of categories. It is its own thing. It's a Fonque thing. It defies the limitations placed on music, ignores the rules that say certain sounds appeal only to certain markets. It speaks to the soul."
With a name derived from the pseudonym used by Cannonball Adderly when he would moonlight on pop and R&B records in the 50's BUCKSHOT LEFONQUE blends rock, hip-hop, jazz, reggae, and African elements. Among the sterling guest artists joining Marsalis and DJ Premier is America's poet laureate Maya Angelou who reads her classic poem "I Know What the Caged Bird Sings" on a track of the same name. The record also features the final recorded performance of the late blues master Alber Collins. Other guest musicians include guitarists Nils Lofgren and Dave Barry, keyboardist Greg Phillinganes, pianist Kenny Kirkland, bassist Bob Hurst, and drummer Jeff "Tain" Watts.
Says Marsalis of the project's genesis, "Premier and I worked together in 1990 on 'Mo' Better Blues' for Spike. I told him then we were going to do this project, and he said, 'Great'" The two began laying grooves down back in January of 1993, not following any prearranged plan. "We didn't have a direction," adds Marsalis. "I just let the music do its own thing, just like on every record I do."
Spearheaded by Marsalis, who served as chief producer, writer, arranger, and soloist along with the celebrated DJ Premier, BUCKSHOT LEFONQUE features instrumentals, inspired samples, spirited vocal ensembles, and the aforementioned spoken word reading by Maya Angelou. The debut single, "Breakfast @ Denny's," inspired by the notorious incident involving the restaurant's refusal to seat six African-American Secret Service agents a few years ago, features an intro by Jay Leno, samples of James Brown over a swing track, and a bad-ass video directed by Spike Lee.
Other songs include the hip-hop/rock flavored "No Pain, No Gain," with a spectacular guitar solo by Albert Collins, and a rap by solo artist Uptown; "Ain't It Funny," written by Marsalis and featuring strings by Clair Fisher and vocals by Tammy Townsend; a remake of the Elton John classic "Mona Lisa (and Mad Hatters)," with vocals by Frank McComb and a chorus of Amharic vocalists from Ethiopia. "Black Widow" features samples from John Coltrane, while "Some Cow Fonque" features Roy Hargrove, Darryl Jones, and the Tonight Show band. The reggae-flavored "Wonders & Sighs" is sung by New York reggae rappers Blackheart, as is "Hotter Than Hot."
Throughout his career, Branford Marsalis has blazed trails in all forms of music, from rock with Sting, the Grateful Dead and Bruce Hornsby, to progressive jazz in his solo albums. He won a Grammy in 1993 for Best Jazz Instrumental Performance, Individual or Group, for his album I Heard You Twice the First Time, and another in 1994 for Best Pop Instrumental Performance for "Barcelona Mona," a single he recorded with Bruce Hornsby for the Olympics in Spain four years ago. In 1995 he has been nominated for yet another Grammy, in the category of Best Pop Instrumental Performance, for his stirring rendition of "The Star-Spangled Banner," series, "Baseball." His 1993 trio album, Bloomington, was hailed as a landmark in contemporary jazz, and as music director of "The Tonight Show with Jay Leno," he ranks among the nation's most familiar musical figures.
Towering above all in BUCKSHOT LEFONQUE is the brilliant saxophone playing of Branford Marsalis. In summing up his thoughts on what has been one of the most musically diverse projects he has yet undertaken, Marsalis says, "We took some interesting left turns... which is what I expected."