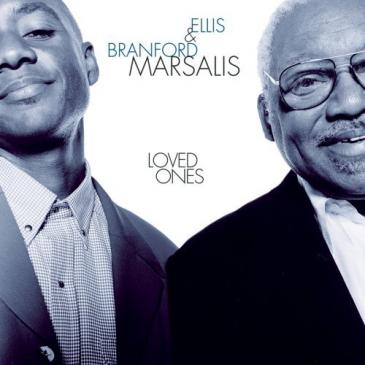 Loved Ones
Tracks
Delilah (Delilah's Theme)
L. Bernstein, S. Sondheim
Miss Otis Regrets (She's Unable To Have Lunch Today)
Bess You Is My Woman - (from Porgy And Bess)
I. Gershwin, G. Kahn, G. Gerswhin
Nancy (With The Laughing Face)
Other credits
Produced by Delfeayo Marsalis
Engineer: Patrick Smith
Recorded at Mastersound Astoria Studio A - Queens, NY, August 14 and September 11, 1995.
Recorded direct to 2-track using Sony 1630 digital.
Assistant engineer: David Merrill
Pianos provided by Steinway & Pro Piano.
Edited and mastered by Jalmus at Masterworks - Los Angeles, CA
Special thanks to: John Matousek
Please know that special attention has been paid to present the finest music documented by these two musicians on these two days. All recording techniques (added reverb, stereophonic panning, level adjustments), were as spontaneous as the actual music.
About the Album
Loved Ones
They say the apple doesn't fall far from the tree, and to prove it, along comes LOVED ONES, the duet album from renowned pianist/educator Ellis Marsalis and his son, saxophonist Branford Marsalis. Together with Delfeayo Marsalis serving as producer, the two have created and album of ineffable elegance and subtlety. Comprised entirely of piano solos and piano/ sax duets, LOVED ONES is a quiet collection of fourteen classics from the American songbook, each saluting a different facet of the feminine mystique.

Recorded over a two-day period late in the summer of 1995, the album includes such immortal tunes as "Delilah," "Maria" from West Side Story; Cole Porter's droll "Miss Otis Regrets," the Gershwins' "Liza" and "Bess You Is My Woman" from Porgy and Bess, "Laura," Duke Ellington's "Angelica," "Sweet Lorraine," "Louise" "Stella by Starlight," and "Lulu's Back in Town." Also included is "Dear Dolores," an exquisite tribute composed by Ellis and dedicated to his wife.

The project began with Ellis's intention to record a solo album of great songs about unforgettable women. His sweet-toned poly-harmonic style perfectly lent itself to such a challenging undertaking. Yet, says Ellis, "As I played through these songs, I thought Branford would really sound good on some of them. Branford, to me, is the most creative and imaginative person playing music today." For his part, Branford was eager to work with his father. "For years I'd been sending my dad albums by Keith Jarrett and other modern players," he says. "It was interesting to see him process this information in his own way." Having selected all standards, Ellis never feared a generational split. "There's no culture clash between Branford and me," says the elder Marsalis. "He's extremely eclectic. He knows these songs and the idioms from which they come."

Spot decisions were made as to which songs would be piano solos and which would be duets, and stylistically, the operative phrase was: whatever works. "I don't know whether or not our interpretations of 'Maria' or 'Miss Otis Regrets' can be considered jazz," notes Ellis, "but only jazz music allows that type of expressive freedom." Adds Branford, "It was interesting how each song became its own entity. 'Maria' and 'Stella' have been played million times, but probably never this slow."

Not every song is played larghetto, with the spirited performances of "Lulu" and "Louise" being notable exceptions. Whether uptempo or lachrymose, every song is lovingly rendered: no surprise considering the level of talent at work on LOVED ONES. Patriarch of the entire Marsalis clan, Ellis Marsalis is without a doubt one of today's premiere modern jazz pianists. Not only did he tutor his sons Wynton, Branford, Delfeayo and Jason in music, but as an educator at the University of New Orleans (UNO) and at the New Orleans Center for the Creative Arts (NOCCA) he served as mentor and guiding light to such prominent contemporary artists as Harry Connick, Jr., Terence Blanchard, and Nicholas Payton to name but a few.

The album has both men excited. Notes Ellis of the duo's gamble, "We didn't worry about making songs sound like a particular style. They either worked or they didn't." Adds Branford, "I never made a romantic record before, but I have to admit, I'm pleased." A gracious musical conversation between a father and son, LOVED ONES is one for the ladies… and definitely one for the ages."