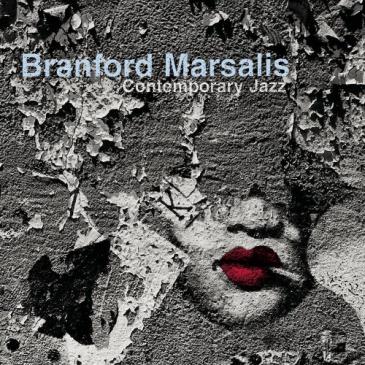 Contemporary Jazz
Other credits
2000 Winner
Best Jazz Instrumental Album, Individual or Group

Produced by Branford Marsalis and Rob "Wacko" Hunter
Recorded and Mixed by Rob "Wacko" Hunter
Recorded December 1-4, 1999 at Bearsville Sound Studios, NY

Recorded for Columbia Records
About the Album
Contemporary Jazz
"Most of my album titles have been goofs and send-ups," says Branford Marsalis, when asked about why he gave his latest disc the decidedly straightforward name Contemporary Jazz. "But I think we're finally playing good contemporary music. We've gone through what we needed to, as people and as musicians, to be at the top of our game. We're not students anymore; we've gone through 'university.' Now we can just play good tunes."

The "we" Branford speaks of encompasses the members of his exceptional quartet: drummer Jeff "Tain" Watts, who in effect has been evolving this music with the saxophonist for two decades; bassist Eric Revis, a key contributor since Branford's previous album, Requiem, and pianist Joey Calderazzo, successor to the late Kenny Kirkland. Together they provide that mix of restlessness and assurance, of knowledge and inquiry, which the leader and the music demand.

"I've always enjoyed a quartet more than other settings," Branford explains, when asked about the choices he faced for his band after Kirkland's death. "And it was a given that Joey would be the next guy. I've known him since he was twelve years old--his brother Gene lived down the hall from me at Berklee --and we've been jamming and talking music for years. Unlike so many musicians I meet, who either play modern music at the expense of the tradition or become too immersed in the tradition to play modern music, Joey plays modern, he's forward thinking, but he still has that attitude."

This blend of talents is essential for joining in the rapid-response creativity that Branford and Watts began nurturing even before they helped launch the first Wynton Marsalis quintet-- since their student days at Berklee College. "A lot of information really flies between Tain and me," Branford confirms. "Our model is a trio of Walter Davis, Jr., Ahmed Abdul-Malik and Ben Riley that we heard playing at Bradley's over a dozen years ago. Tain called me from the club one night and said, 'If you ever want to hear bebop the way it's supposed to be played, get down here!' We ended up spending the whole week at Bradley's, hearing this mass of information flying across that rhythm section--not licks, like we had been taught as kids, but information. Walter would even pull his hands off the keyboard when he found himself going to a familiar idea. I never forgot that."

In letting the information fly on Contemporary Jazz, Branford's quartet has created a program of uniformly high quality, yet diverse and often mercurial moods. "Most people choose material that plays to their strengths," he notes; "but with Tain and me, and with Eric and now Joey, too, we have a lot of choices."

The opener, "In the Crease," is one of his most challenging compositions. "It was supposed to be on the last album," he explains, "but Kenny and Tain were having a tough time playing it, which brought me endless joy. It's one of those songs that goes back to when I roomed with 'Smitty' Smith at Berklee, and would mess with his Doctor Rhythm machine when he wasn't around. I've always wanted to write rhythmically challenging music that flows, because I've always felt that it's hard as hell to play odd meters without spelling them out, but then you lose an organic melodic feeling. Now that I've been doing it for so long, I was able to just write the melody for 'In the Crease' without worrying about the meter. And as far as the rest of the band getting it," he laughs, "I've learned that you can rehearse and rehearse and it will remain problematic, but screw it up a couple of times on a gig and you learn it real fast."

Watts, who explodes at the end of "In the Crease," is also the focal point of "Tain Mutiny," the latest in a long line of compositions that the saxophonist has dedicated to his drummer. "It started out as a joke, when Tain was two hours late for a session on my first album Scenes in the City and we did 'Waiting for Tain.' Kenny loved that so much that he wrote 'Chambers of Tain' for Wynton's band. It might have ended there, but then I heard that a lot of other musicians, drummers in particular, were upset that we were writing so many tunes for Tain. So now we'll do them forever. One guy is even constantly sending me emails with Tain titles."

The drummer's own contribution to the album is the surprising jazz hoedown "Countronious Rex." "Black Americans use the word 'country' to supplant 'hick' or 'rube,'" Branford notes. "Tain's from Pittsburgh, where a lot of folks from Mississippi moved, and the tune is very country, so the title means 'The King of Country.' It's a great song, because it sounds simple until you try to play it. Everything's in five, except for one bar in six."

Contemporary Jazz as played by the quartet also includes the heartfelt balladry of Revis' "Ayanna" and Branford's own "Requiem," which might be considered the title track from his last album. "I was still writing 'Requiem' when Kenny died, and originally wanted Keith Jarrett to play on it, because Kenny was such a big Keith fan. Kenny's the one who turned me on to Keith's music, which has influenced the shape that my ballads would take. But when Keith was ill and couldn't record, I just decided to save it for this album." While the rhapsodic melody does reveal traces of Jarrett, Calderazzo's magisterial piano solo need not defer to Jarrett, Kirkland or anyone else, and Branford is inspired in turn to create one of his own most poetic and reflective statements.

The disc is completed by a fleet, provocatively arranged version of the standard "Cheek to Cheek," a "hidden" walking blues "Sleepy Hollow" that finds Branford in a Ben Webster mood and a new version of "Elysium" that transforms a piece first heard in a trio setting on the Requiem CD. "I brought 'Elysium' in to finish the last album, after Kenny died," Branford comments, "and Eric, Tain and I really just did a reading. Now it's completely different."

Striving for such difference is what makes Branford Marsalis' jazz such an essential gauge of the truly contemporary. This music has its visceral and emotional rewards, but it also provides new perspectives and provokes fresh responses. It allows us to hear what's next, rather than simply what we already know.

This is not an obvious choice, and is definitely not the easy way out, for a musician who, as he turns 40, has already enjoyed two decades of acclaim and celebrity. "Having played with Sting, I know what it's like to be in arenas where you are really popular," he confirms. "But sooner or later we reach a crossroad, and I've come to the crossroad. I think of how Stravinsky, in his autobiography, talks about the frustration of people finding something of yours that they like, then expecting you to do it for the rest of your life while you're constantly trying to write something new, that they might not understand. 'It's a shame that they cannot hear with different ears,' is the way Stravinsky puts it.

"So when you play jazz, or any music not just attempting to represent a lifestyle, you have to be there for the music. And that means you just play it, accept the consequences, and realize how lucky you are."

For Branford, "being there for the music" means his teaching affiliation with San Francisco State University, special challenges such as his album with the Orpheus Chamber Orchestra that will be released on Sony Classics in 2001, and most particularly the music he creates with his quartet. And since he and his band are so highly skilled at communicating their vision, his fans can consider themselves equally lucky. Along with celebrating his birthday on August 26, Branford can take heart from knowing that his band has created not only Contemporary Jazz, but contemporary jazz at its finest.