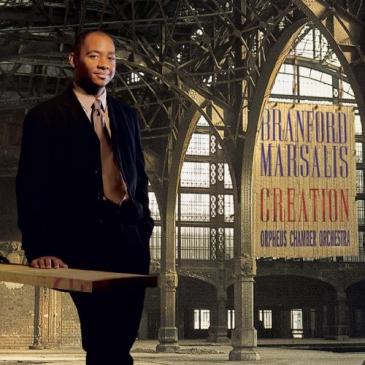 Creation
Tracks
The Little Shepherd' from Children's Corner Suite
Pavane pour une infante defunte
La Creation du monde, Op. 81
Pie Jesu' from Requiem, Op. 48
Sorocaba (Saudades do Brasil No. 1), Op. 67
Scaramouche, Suite for Saxophone and Orchestra, Op. 165c
Corcovado' (Saudades do Brasil No. 7), Op. 67
Sumare' (Saudades do Brasil No. 9), Op. 67
Concertino da camera for Alto Saxophone and Orchestra
Laranjeiras' (Saudades do Brasil No. 11) Op. 67
Golliwogg's Cake-Walk' from Children's Corner Suite
Musicians
Orpheus Chamber Orchestra
Other credits
Produced by Thomas Mowrey
Recording & Post-Production Engineer: Charles Harbutt
Editor: Ellen Fitton
Assistant Engineer: Jen Wyler
Assistant Producer: Lisa Mowrey
Remote Technical Supervisor: Billy Rothschild
Recorded March 9-11, 2000 at the American Academy of Arts & Letters, New York City
About the Album
Creation
For the first time in 15 years, Grammy Award-winning jazz saxophonist Branford Marsalis has returned to classical music for his new Sony Classical recording Creation. Joining Marsalis on Creation is the conductorless American chamber orchestra Orpheus in performances of music by early 20th-century French composers, works that resonate with the then-new phenomenon of American jazz. Marsalis' new recording attests to the range and ambition of his restless talent, which has made him, raved Wes Phillips of onhifi.com, "an innovative jazz saxophonist who also happens to be a classical performer with phenomenal technique."

Creation presents a rare opportunity for Marsalis to step into the spotlight in the classical repertoire. The small body of mainstream classical music for saxophone that does exist is dominated by these French composers, bridging the gap between the Romantic and Impressionist styles with uncommonly beautiful and often quite complex music. Though none of these works tries to be jazz, each has an expressive freedom that blooms in the hands of a performer like Branford Marsalis.

For a sax player – who rarely gets big, gratifying chances in classical music – this kind of encounter is a liberating experience. "There are a lot of classical pieces for saxophone, but there are not a lot of those pieces that I would enjoy playing, "Marsalis says. "They become exercises. They show off the technical possibilities of the instrument, not the beautiful possibilities. The French were liberated in their thinking, and they did not hear the saxophone as a bastard instrument. They believed in things that are beautiful, and the beauty is undeniable in this music."

Several selections on Creation were specially arranged for the recording. The disc also features Marsalis in performances of Jacques Ibert's Concertino da Camera for Alto Saxophone and Orchestra and Darius Milhaud's Le Creation du Monde (The Creation of the World), both sleek, contemporary pieces that seem tailor-made for a jazz virtuoso's exuberant sense of style. Marsalis acknowledges the experience of playing jazz in his unique collaboration with Orpheus. "It's kind of like jazz, when jazz is good," he says. "Everybody has a say in the course and direction of where the music goes, with the understanding that what matters is the music. When everybody's on that page – it's magic."

This past spring, Marsalis toured the U.S. with Orpheus, playing selections from Creation, reaffirming the remarkable reach of his musical interests, from pop to jazz to classical. Though he is best known for his jazz recordings, Marsalis has continued to explore classical music at the same time. In recent chamber-orchestra performances of the music of Villa-Lobos and other composers at the Ravinia Festival, he played, in the words of the Chicago Tribune, "with a subtlety of tone and phrasing only the finest interpreters can attain." In another chamber-ensemble performance at this year's Bridgehampton Chamber Music Festival, Marsalis "demonstrated unparalleled sensitivity and intelligence," according to critic David Swickard.

The New Orleans native was born into one of the city's most distinguished musical families which includes brothers Wynton, Delfeayo and Jason, and the family patriarch, pianist/music educator Ellis Marsalis. In 1984, he released Scenes In the City, his first album for Columbia Jazz, which began his thriving jazz career. He also made successful forays into the pop world with artists such as The Grateful Dead, Sting and Bruce Hornsby.

Branford Marsalis won his first Grammy in 1993 for Best Jazz Instrumental Performance, Individual or Group, for his album I Heard You Twice the First Time, and another in 1994 (Best Pop Instrumental Performance for "Barcelona Mona," a single he recorded with Bruce Hornsby for the Olympics in Spain.) His 1993 trio album, Bloomington, was hailed as a landmark in contemporary jazz which Bill Kohlhasse of the Los Angeles Times called "revealing and beautiful in ways only the best improvisational music can be." The 1994 debut album of Buckshot LeFonque, Marsalis' unique amalgam of jazz and hip-hop, similarly broke new musical ground.

In 1995 he was nominated for yet another Grammy, in the category of Best Pop Instrumental Performance, for his stirring rendition of "The Star-Spangled Banner," once again teamed with Bruce Hornsby for the soundtrack of Ken Burns' memorable PBS series Baseball. The Dark Keys (1996) was a further step in Marsalis' jazz explorations, while a second Buckshort album, Music Evolution, was released in 1997.

Marsalis' most recent jazz recording Contemporary Jazz – which won the Grammy Award for this year's Best Jazz Instrumental Album – has been described as his greatest work to date, with Howard Reich of the Chicago Tribune declaring that Marsalis "achieved a new level of emotional intensity and instrumental brilliance." Billboard added, "the album's title … could not be more descriptive. This straight-ahead jazz set is truly contemporary, completely in the moment, and part-and-parcel with the times in which it was created …The music is as visceral as it comes." Contemporary Jazz is Marsalis' twelfth jazz album in a catalogue of recordings that includes two Buckshot LeFonque pop albums and an earlier Sony Classical release, Romances for Saxophone (MK/PMT 42122). Marsalis has also made his mark as a producer, working with such artists as Dávid Sanchez (whose albums Obsesión and Melaza were Grammy nominees for Best Latin Jazz Performance), Frank McComb and Joey Calderazzo.

Branford Marsalis has not limited his musical activities to recordings. His presence is notable in a number of film scores, as both composer and featured soloist. He wrote, arranged and produced the film score for the critically acclaimed Showtime movie, Mr. & Mrs. Loving, starring Timothy Hutton and Lela Rochon. Other recent scores include the Disney/NBC film Single Dad and the feature film Once in the Life, which marked the directorial debut of actor Laurence Fishburne. Marsalis has also participated in the soundtracks to several Spike Lee films, including Mo' Better Blues, Malcolm X and Clockers. Additionally, he contributed to the soundtracks Sneakers starring Robert Redford andThe Russia House starring Sean Connery and Michelle Pfeiffer.

Today, Marsalis is shaping the future of jazz in the classroom. He recently took a part-time position with San Francisco State University as part of their music faculty. This follows a similar association with Michigan State University, where Marsalis taught, first as a visiting scholar and then as a part-time faculty member.