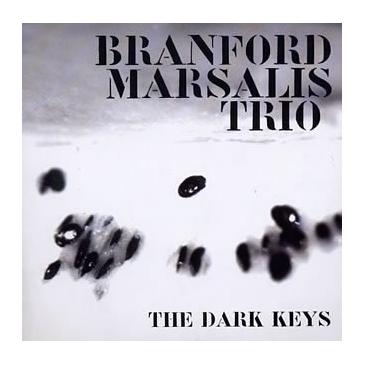 The Dark Keys
Other credits
Produced by Delfeayo Marsalis
Recorded by Patrick Smith with Rob "Wacko" Hunter & Dennis Darby
Recorded July 31- August 2, 1996 at The Music Hall Theatre, Tarrytown, NY
About the Album
The Dark Keys
Somehow it's hard to picture: Branford Marsalis, the roaring lion of the saxophone, out on the links wielding a putter. Yet that's where he's likely to be found these days as he pursues a new-found passion for golf. "I find golf is a lot like music," he says. "It's a battle against yourself. Golf is hard. Music is hard. To get the nuances of either takes a long time." Anyone acquainted with the music of Branford Marsalis would agree that he's put in the time and won the battle. For any remaining skeptics, Branford offers his new Columbia album, THE DARK KEYS, a wonderment of texture, mood, and air-tight ensemble performance.

Produced by Delfeayo Marsalis, THE DARK KEYS is Branford's first recording in the jazz trio format since his acclaimed 1993 album Bloomington. As before, Marsalis teamed with his long-time drummer Jeff "Tain" Watts, while bringing in Reginald Veal as the band's new bassist. Adding even more drama, saxophone greats Joe Lovano and Kenny Garrett joined Marsalis for a pair of horn duets on THE DARK KEYS.

The name is a product of Branford's legendary--and decidedly acerbic--sense of humor. "The Dark Keys," which opens the album, begins with an unintentional nod to "A Love Supreme," John Coltrane's classic composition from the 60's. "It was an accident," he swears. "I truly wasn't thinking about it consciously." Hyped way up at a rapid-fire tempo, the piece is a virtual clinic on melodic deconstruction and saxophonic intuition. The next track, "Hesitation," lives up to its name with an opening sequence of stylish syncopation and Branford's seamless chromaticism. Veal's masterful bass solo further distinguishes the track. The ballad, "A Thousand Autumns," a slow, ghostly elegy of solemn beauty, was written in honor of Marsalis' idol Wayne Shorter, whose wife tragically perished on board TWA #800.

The swinging neo-bebop tune "Schott Happens" takes a shot at the infamous owner Of the Cincinnati Reds. Says Branford, tongue planted firmly in cheek, "She's a nice lady but she went too far." On the languid "Lykief," Branford takes up a honey-toned soprano sax to stretch the boundaries of a bittersweet melody, while Watts and Veal provide deft support. Alto sax player Kenny Garrett joins Branford on "Judas Iscariot" for a horn player's battle royale. The next track, "Sentinel," which teams Branford with tenor sax great Joe Lovano, is slightly less frenetic but no less impertinent. Says Branford, "It's certainly a pleasure to play with Kenny and Joe. They're the premiere sax players out there right now." The album ends with "Blutain," a slow sensuous Jeff Watts composition performed with disquieting power.

All of this activity is a testament to Branford's ceaseless quest for mastery in his musical endeavors. "I have experience with meticulous analysis of something over a long period of time in order to make it better down the road," he says. "That's the complete antithesis of the American philosophy which is, 'I want it good and I want it now.'" Branford sees a link between this lax attitude and contemporary music. "You can always tell a guy who likes to practice fast but never practices slow," he says. "His notes always lack a certain level of density."

So how does he wage that battle with himself these days? "Most people, once they find success, ease up," says Branford. "But there is no 'success' in music. Every time I pick up the horn, I know I can play better; you have to play some shit you haven't played before. It's not so much technical. Technique is about mechanics. Playing music is another thing."

With the release of THE DARK KEYS, the Branford Marsalis Trio takes to the road for much of the foreseeable future. The band has already found favor with tough critics, such as Peter Watrous of the New York Times, who, in a recent concert review, wrote, "The music felt as if it could go anywhere, from free and jumbled tumult to flatlined swing, and it did... it was communal improvisation at its best. Mr. Marsalis has a conception, and the maturity to pull it off."

Those are undeniably well-chosen words. But sometimes words fail in describing something as ephemeral as music. The best suggestion is to experience the Branford Marsalis Trio for yourself. THE DARK KEYS just might show you the light.