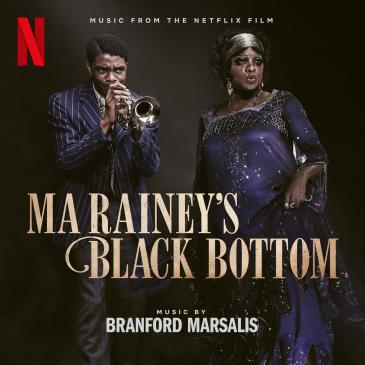 Ma Rainey's Black Bottom Soundtrack
Tracks
Al Gifford, Jr. & Len Gray
Hear Me Talking to You (Instrumental)
The Story of Memphis Green
Music: Branford Marsalis/ Lyrics: Harry Connick, Jr.
In the Shadow of Joe Oliver
Musicians
Kristina Musser Gitterman
Other credits
Produced by Branford Marsalis
Recorded and mixed by Rob "Wacko!" Hunter
June 3-6, 2019 & February 6-11, 2020 at Ellis Marsalis Center for Music, New Orleans, LA
June 17, 2019 at Glenwood Place Studio, Burbank, CA
July 16, 2019 at Audible Images Recording Studios, Pittsburgh, PA
January 3, 2020 at Igloo Music, Burbank, CA
February 19, 2020 at DiMenna Center/ Benzaquen Hall, New York, NY
August 2, 2020 at Staffland Studio, Lafayette, LA
Mixed August 5-18, 2020 at The Studio in the Country, Durham, NC
Mastered August 20, 2020 by Greg Calbi at Sterling Sound Studios, Edgewater, NJ
About the Album
Ma Rainey's Black Bottom Soundtrack
MA RAINEY'S BLACK BOTTOM MUSIC FROM THE NETFLIX FILM
By Grammy Award-winning saxophonist, composer and bandleader Branford Marsalis

NEW YORK, NY (December 18, 2020) – Milan Records today releases MA RAINEY'S BLACK BOTTOM (MUSIC FROM THE NETFLIX FILM), an album of music from Netflix's newest original film about "Mother of the Blues" Ma Rainey. Available everywhere now, the album features score music by critically-acclaimed saxophonist, instrumentalist, composer, bandleader and educator BRANFORD MARSALIS, as well as newly-recorded covers of both popular Ma Rainey tracks and blues and jazz standards from the era. The multi-GRAMMY Award® winner brings over four decades of experience across stylistic boundaries to the project, imbuing the film with an authentic 1920s Chicago soundscape. Directed by George C. Wolfe and starring Viola Davis and Chadwick Boseman, Ma Rainey's Black Bottom is available to watch on Netflix now.

Of the soundtrack, composer BRANFORD MARSALIS says, "When George Wolfe called to ask me to compose music for his upcoming film, the project forced me to quickly fill in a gap in my musical experience: addressing the music of the 1920's. I was excited about learning a new sound for my aural library and had to get right to work... Having only written arrangements for the modern big band (17 instruments, no strings), I looked forward to the challenge of writing in a '20s format and convincing the musicians to play the music as authentically as possible.

Director GEORGE C. WOLFE adds, "When I signed on to direct Ma Rainey's Black Bottom, I instantly knew I wanted to work with Branford Marsalis, because when you collaborate with Branford the composer/arranger, Branford the historian, musicologist, dramatist and raconteur shows up as well. And because he understands the inherently transgressive nature of the blues, Branford's arrangements capture not only the cultural and regional DNA in Ma Rainey's songs, but the wit and rage embedded in every note, shout and moan."

Chicago, 1927. A recording session. Tensions rise between Ma Rainey (Viola Davis), her ambitious horn player (Chadwick Boseman), and the white management determined to control the legendary "Mother of the Blues." Based on Pulitzer Prize winner August Wilson's play. Ma Rainey's Black Bottom, directed by George C. Wolfe. Adapted for the screen by Ruben Santiago-Hudson. Produced by Denzel Washington, Todd Black and Dany Wolf. Starring Viola Davis, Chadwick Boseman, Colman Domingo, Glynn Turman, Michael Potts, Taylour Paige, Jonny Coyne, Jeremy Shamos and Dusan Brown. Coming to Netflix December 18.