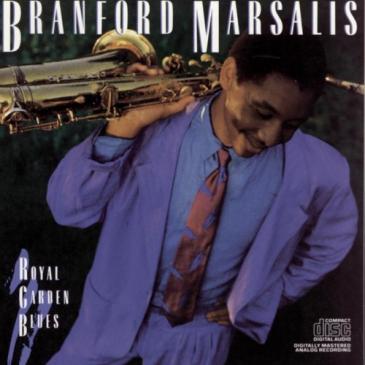 Royal Garden Blues
Other credits
1986 Nominated
Best Jazz Instrumental Performance, Soloist

Produced by Delfeayo Marsalis

Executive Producer George Butler

Engineers Jim Scott, Tim Geelan, Patrick Smith, Delfeayo Marsalis

Recorded March 18-20, and July 2, 1986 at RCA Studio A, New York, NY
About the Album
Royal Garden Blues
Few musicians in modern music have made the impact that Branford Marsalis has in the last half-dozen years. His earliest performances with his brother Wynton in the award winning lineup of Art Blakey & the Jazz Messengers, their time with the Herbie Hancock Quartet and VSOP II, Wynton's first four solo LPs and Branford's own Scenes in the City, his session work with more than a dozen acts ranging form Miles Davis and Dizzy Gillespie to Tina Turner and Teena Marie - all set the stage for his year-long stint with Sting, as chronicled on The Dream of the Blue Turtles album and "Bring On the Night" feature-film and double-LP live package.
But those who've followed Branford's development as a musician and a person through the 1980s understand his devotion to jazz is deep and abiding. As far and wide as his musical forays into blues, rock and R&B have taken him, jazz is the core, home-base. Jazz is certainly the center of consciousness on his second solo album for Columbia Records.
ROYAL GARDEN BLUES, in homage to the Crescent City of New Orleans, takes its title from 1920s composer/bandleader Clarence Williams' familiar theme, Branford (on soprano saxophone) adding his name to a long list of jazzmen who've recorded the number in the last half-century, Kid Ory, Armstrong, Bechet, Bix, Mugsy Spanier, got the picture? New Orleans is then brought up-to-date by the man who first put the music onto Branford, his father/mentor/educator Ellis Marsalis, playing piano on his composition "Swingin' at the Haven." Somewhere in between those two eras, room is found for George Gershwin's "Strike Up the Band," a march by any other name, indeed.
Rhythm is a major key to a true appreciation of ROYAL GARDEN BLUES. Young bassist Charnett Moffett, who first joined Wynton and Branford at age 16, is reunited with "the group" - pianist Kenny Kirkland and drummer Jeff 'TAIN' Watts - on two tracks: Kirkland's "Dienda" and, closing the album, Branford's one composition on this LP, "The Wrath of Tain" (a distant relative of "Chambers of Tain" and "Waiting For Tain"?). Watts, bassist Ron Carter, and pianist Herbie Hancock join Branford on a Wynton composition, "Emanon." And pianist Larry Willis, heard on several tracks throughout, contributes "Shacows" to the program, joined by bassist Ira Coleman and drummer Marvin "Smitty" Smith.
ROYAL GARDEN BLUES was produced by younger brother Delfeayo Marsalis in two series of sessions, the first in March, 1986, the second in July. The recording took place at RCA Study A in New York, site of Branford's first solo album and Wynton's last three LPs. "Jazz was meant to be recorded in a big room," he told Mark Varney in Jazziz magazine, "with 40-foot ceilings. We use RCA. That's the way jazz is supposed to sound." Branford Marsalis, it should come as no surprise, knows more than a thing or two about how jazz is supposed to sound.
ROYAL GARDEN BLUES, coming some two and a half years after Scenes In the City, makes mince meat out of the cliché "long-awaited." For Branford Marsalis, it points out the complexity of his wide-ranging assignments as a sideman and the prospects of finally leading his own combo as 1986 comes to a close. "There's too much other stuff I want to play before that happens," he told Zwerin. "Right now I love the challenge of variety, of fitting into roles other people choose for me." At the age of 26, Branford has all the time in the world.