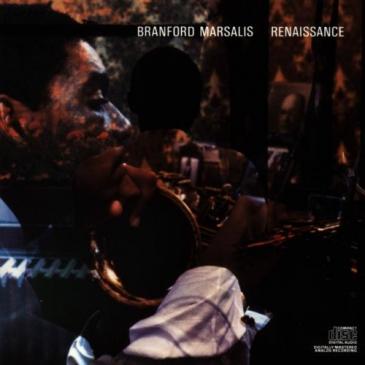 Renaissance
Tracks
The Wrath (Structured Burnout)
Other credits
Produced by Delfeayo Marsalis

Executive Producer George Butler
About the Album
Renaissance
The impact that Branford Marsalis has made on modern music in the 80's continues to be felt on his third album for Columbia Records, RENAISSANCE. Branford maintains a commitment to traditional jazz that is second to none, complemented by his ongoing projects with pop vocalist Sting, plus his recent expansion into the classical field, and a couple of highly anticipated film roles set for '87-'88 release. Working with an extraordinary lineup of talented jazz players, Branford has come with a program of ballads that pays homage to jazz scenes past and present. Long-time pianist Kenny Kirkland, bassist Bob Hurst (moonlighting from brother Wynton's quartet), and stellar drummer/composer Tony Williams comprise Branford's recording group on the LP.
They open with Cole Porter's "Just One of Those Things" and close with Sonny Rollins reliable "St. Thomas." In between: J.J. Johnson's "Lament"; a pair from Tony Williams, "Love Stone" and "Citadel"; and an original from Branford, "The Watch (Structured Burnout)" – yet another installment in the "Chambers of Tain"/"Waiting for Tain"/"Wrath of Tain" cosmology inspired by drummer Jeff "Tain" Watts. The centerpiece of RENAISSANCE is "The Peacocks," written by the great pianist Jimmy Rowles. Guest stars on this new trio version are Herbie Hancock on piano and bassist Buster Williams.
RENAISSANCE was once again produced by younger brother Delfeayo Marsalis, whose work on Royal Garden Blues earned that album a Grammy nomination. The new LP was recorded at Paramount in Los Angeles with the exception of two cuts: "The Peacocks" was recorded New Year's Eve '86 at RCA Studio A in New York (site of Branford's first two solo LPs, and Wynton's last four); and "St. Thomas" was recorded by Delfeayo at Concert-by-the-sea in Redondo Beach "with a Sony TCD5M cassette recorder and a generic microphone."
As far and wide as his musical forays into blues, rock and R&B have taken him, jazz is the core, home base. For his first film role, "Throw Mama From the Train" (Orion, opening December '87), written/directed/starring Danny DeVito, with Billy Crystal, Branford portrays a jazz musician (performing two original compositions in the course of the film), and the result should be something to behold.
"I'm confident of my ability," he told Kevin Whitehead in the down beat issue of March '87 that featured him on the cover, "but I'm not ready to break now ground right now; I still want to do classical and pop records. But it's no lie, I won't play anything for money. When you do it for money, you have to kiss too much ass…Man, if I did it for money, would I say half the things I say?"