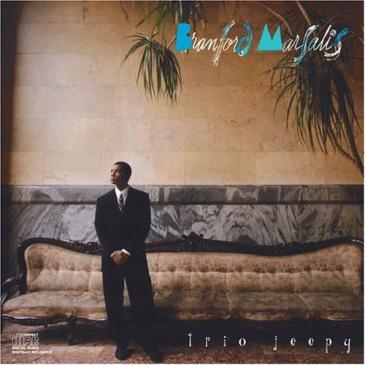 Trio Jeepy
Tracks
H. Carmichael, N. Washington
B. Marsalis, J. Watts, M. Hinton
Random Abstract (Tain's Rampage)
Musicians
Delby (Doxy, Peace, Random Abstract)
Other credits
1989 Nominated
Best Jazz Instrumental Performance, Group

Produced by Delfeayo Marsalis

Executive Producer George Butler

Recorded and Mixed by Rob "Wacko" Hunter

Recorded January 3-4, 1988 at Astoria Studios, NY
About the Album
Trio Jeepy
"I've played in the past against other guys," Sonny Rollins was telling New York Times writer Jon Pareles, on the occasion of his recent concert at Carnegie Hall with Branford Marsalis. Rumors of a "cutting contest" circulated throughout New York's jazz community, in advance of what the Village Voice's Gary Giddins described as a must in that week's live musical events.
"I've gotten into some competitive things with Sonny Stitt, Dexter Gordon, John Coltrane and Ben Webster," Rollins recalled, evoking the names of the tenor masters, "situations which had more of a competitive focus. Even there, when you play with them you learn, especially if you really respect the guy you're playing with." And then, in a statement that left no doubt, "I have the highest respect for Branford."
The feeling, it seems, is mutual, as TRIO JEEPY, Branford's aptly titled 5th LP for Columbia Records, finds the saxophonist (nicknamed 'Jeepy', it turns out) devoting quality time to (among many other standards) the Rollins composition, "Droxy," which he recorded with Miles Davis nearly forty years ago.
Those who've kept pace with Branford's development as a leader on Columbia will recall that his very genesis on the label, the first track of Scenes In the City, his debut album, was the sax-bass-drums trio version of his original "No Backstage Pass," whose point of departure was clearly the music of Rollins. While Branford explored a wealth of quartet, quintet (and once, duo) lineups on that LP and its successors, Royal Garden Blues, Renaissance, and last year's Random Abstract, it is significant that he returns to the trio form for an ambitious double-LP, TRIO JEEPY.
Branford is joined by his long-time drummer Jeff 'Tain' Watts, 'the Judge' Milt Hinton on bass (who "not only represents tradition," to paraphrase producer Delfeayo Marsalis, "this great man is tradition!"); and on three tracks, regular bassist Delbert Felix. The LP's challenging program of standards is both familiar and unfamiliar-- from Hoagy Carmichael's "Stardust" and "The Nearness of You," Billy Strayhorn's "UMMG," and a swingin' "Makin' Whoopee," to "Three Little Words" (tribute to Lester Young") and Ornette Coleman's "Peace." Branford penned the opening "Housed From Edward" (homage to Duke Ellington), and closing "Random Abstract (Tain's Rampage)"; and co-wrote (with Watts and Hinton) the "nobel" D-flat blues, "Gutbucket Steepy."