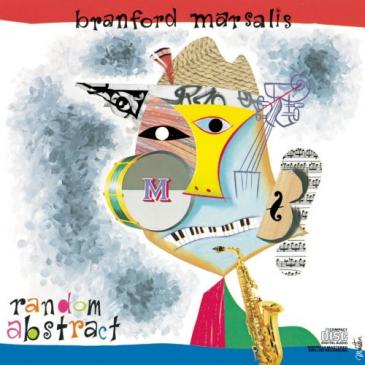 Random Abstract
Other credits
1988 Nominated
Best Jazz Instrumental Performance, Soloist (On a Jazz Recording)
Best Jazz Instrumental Performance, Group

Produced by Delfeayo Marsalis

Executive Producer George Butler

Engineer Tomoo Suzuki

Mixed by Patrick Smith

Recorded August 12-13, 1987 at Sound City Studios, Tokyo, Japan
About the Album
Random Abstract
Branford Marsalis, writes his younger brother (and three-time producer) Delfeayo, "is the first soloist (to my knowledge) whose contributions to music openly display the multifarious qualities of all major saxophone stylists in the jazz idiom, in addition to his own. While most hornmen his age search frantically for the autonomous voice on the jazz world, Marsalis has first chosen to understand in full the logic, inventiveness and personalities of his predecessors, thus greatly enhancing his creative awareness."
But as far and wide as Branford's musical and film forays have taken him, jazz is the core, home base. The extent of his commitment to the idiom reaches transcendental heights on the soaring, sweeping, swooping and altogether triumphant 16-minute version of Ornette Coleman's "Lonely Woman" on RANDOM ABSTRACT, Branford fourth LP for Columbia Records.
The album, says Branford, is "the first one that documents my quartet conception - with one band. I used different sidemen on other records to capture the mood and groove of each tune. Thanks to Delbert and Lewis I didn't have to resort to that on this record." Recorded after the quartet had been on the road together for a few months, the album shows off the mastery of pianist Kenny Kirkland, bassist Delbert Felix, and drummer Lewis Nash on Branford's most challenging set ever.
The program acknowledges jazz masters past and present. Wayne Shorter's "Yes And No" opens side one, recapping the heyday of the Blue Note label; Branford's "Crescent City" (New Orleans, for the uninitiated) evokes early '60's Coltrane; and another original, "Broadway Fools" is "a stunning caption of an E-flat blues in the style of Ornette Coleman." Kenny's "LonJellis" opens side two, a free-form tribute to the man who first put the music onto Branford, his father/mentor/educator Ellis Marsalis; the standard "I Thought About You" bids farewell to Branford's emulation of Ben Webster, once and for all; and "Steep's Theme" closes the album, "a Wynton Marsalis statement, the person whom Steep [Branford] heralds as not only being responsible for him playing music, but also for the renaissance of, performance of, and acceptance of acoustic jazz in the 80's."
"I'm confident of my ability," he told Kevin Whitehead in the down beat issue of March '87 that featured him on the cover, "but I'm not ready to break new ground right now; I still want to do classical and pop records. But it's no lie, I won't play anything for money. When you do it for money, you have to kiss too much ass... Man, if I did it for money, would I say half the things I say?"
"One major problem that must be resolved by the present generation of jazz artists," states Delfeayo, "is the horrific misconception that a dazzling technical display is more important than the actual musical statement...with RANDOM ABSTRACT, Marsalis (aided by top-rank comrades) has chosen to load his weapons and stage war against these beliefs."
"RANDOM ABSTRACT," concludes Delfeayo, "I need not say more."