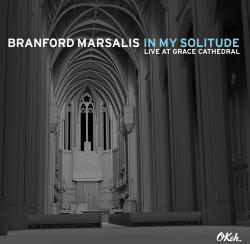 Branford Marsalis – In My Solitude: Live at Grace Cathedral (2014)
Never one to shy away from a big moment, Branford Marsalis brought his saxophones — and nothing else — to one of jazz's most iconic settings for what would become his first-ever unaccompanied performance and album.

The results, recorded in 2012 at Grace Cathedral in San Francisco, and due October 21, 2014 via Marsalis Music-Okeh Records, doesn't supercede Duke Ellington's initial 1960s-era Sacred Concert — held there, as well — so much as endeavor to expand the vocabulary of that stirring triumph.

Ellington, back then, was focused on blending jazz, black gospel and classical into a kind of large-scale, yet intimate tapestry of emotion. Marsalis, as evidenced by his single-instrument vehicle, is crafting more in miniature on In My Solitude: Live at Grace Cathedral — but at the same time, pushing in his own way to blur the lines between post-bop jazz and contemporary classical. In place of the sacred, he delves into modernity of free-form improv. As such, this won't translate for fans who've come to his music via tandem collaborations in pop music.

In fact, In My Solitude works diligently away from those expectations, as Marsalis tracks deeper into melody, and then into far more individualistic asides, while moving determinedly away from the bawdy shower of notes associated with rock and R&B. His work here, then, is apt to recall Sonny Rollins or Sam Newsome more than, say, Sting.

He plays with expectations, with the towering echoes of this epic setting, even (as on "Improvisation No. 3″) with a passing siren. He gives himself, utterly, to the moment. And so, perhaps expected moments like Steve Lacy's "Who Needs It" and Marsalis' original "The Moment I Recall Your Face" are paired in this highly personalized set with a baroque sonata, four separate wide-open improv pieces and a multiphonic composition — which in turn can lead to more accessible, found objects like the warhorse "Stardust" and even a familiar television theme in "I'm So Glad We Had This Time Together" from the Carol Burnett Show.

All of it thrums with spontaneous, almost voyeuristic emotion. Even as Marsalis switches from soprano to alto to tenor, there's no real sense that he's performing, so much as having a deeply introspective conversation, all by himself. In My Solitude is, in that way, the essense of live performance, something that couldn't have happened any other way on any other day.

Moreoever, as Marsalis blends the accessible with the profoundly intriguing, the sharp-cornered with the confidential, his performance becomes something worthy of having happened where Ellington's similarly uncompromising, though much more large-scale expressions once echoed into eternity. Once again, Marsalis has risen to the occasion.