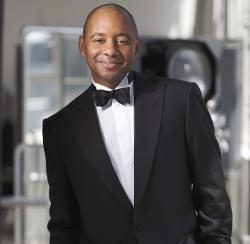 Going for Baroque: Branford Marsalis, chamber group in Seattle on Oct. 4
A concert of Baroque saxophone: What can that possibly sound like?
A Seattle audience is about to find out.
So is the saxophonist.
"We have not yet started rehearsals, so I can't presume what we will sound like," says Branford Marsalis, the Grammy Award-winning musician and composer.
The renowned and ubiquitous saxophone player, who has performed with everyone from Miles Davis to Public Enemy to the New York Philharmonic, is kicking off a 20-city tour with the Chamber Orchestra of Philadelphia at Seattle's Meany Hall for the Performing Arts on Saturday (Oct. 4).
In an email interview days before Marsalis and the 50-year-old ensemble began rehearsing, the leader of the Branford Marsalis Quartet looked ahead to a Meany program of early music from across Europe. The bill includes works by J.S. Bach, Henry Purcell, Tomaso Albinoni, Louis-Antoine Dornel and others.
"All of the pieces are outside my comfort zone, and I relish the challenge," Marsalis says. "That said, I'm really digging the French Baroque stuff."
Marsalis is no stranger to classical repertoire: he is a frequent soloist with symphony and chamber orchestras. But, he says, "I have had no opportunity to play Baroque music before. There's always something to learn."
His collaboration with the Philadelphia organization "was the idea of my former agent. I was intrigued as soon as he said it, and started to listen to and learn the music, regardless of whether a tour developed."
The Chamber Orchestra of Philadelphia will be playing without a conductor in the usual sense. Typical of early music ensembles, one player will take the lead during a performance, setting a tone for everyone. While all the compositions on the program, Marsalis says, "are either for oboe, violin or flute," he will be leading the orchestra and improvising solos.
"The performance will not have a jazz flavor, but will have jazz sensibilities," he says. "Baroque music, particularly French Baroque, was written in a framework fashion, leaving it to the soloist to make it musical. Phrasing, rhythm and ornamentation are left to the soloist."
Born into a much-honored jazz family that includes his father, pianist and music professor Ellis Louis Marsalis Jr., and brothers Jason, Wynton, Ellis III and Delfeayo, Branford Marsalis, 54, studied at the Berklee College of Music in Boston.
He toured in the 1980s and '90s with legends Art Blakey, Lionel Hampton and Herbie Hancock, and recorded with Miles Davis and Dizzy Gillespie.
He was also a member of Wynton Marsalis' first quintet, and famously joined Sting on several tours.
After serving three years as bandleader on "The Tonight Show with Jay Leno," Marsalis focused attention on his own projects, including a record label, and branched out to classical fare.
For the Chamber Orchestra of Philadelphia, going on the road with Marsalis represents not only a West Coast debut but the beginning of a larger presence in the music world.
"We're often pigeonholed in classical repertoire," says Janelle McCoy, executive director. "But we're called on by other artists to join forces with them. That expands our thinking, exposes us to new audiences, and new audiences get to know what a chamber orchestra is.
"This tour with Branford reflects where we're headed."