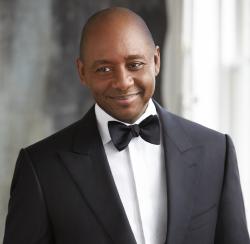 Branford Marsalis and Chamber Orchestra of Philadelphia Collaborate on National Tour
The Chamber Orchestra of Philadelphia has signed a contract with Columbia Artists Management Inc. (CAMI) and will join Grammy Award-winning and Tony Award nominated saxophonist and composer Branford Marsalis on his national "Well-Tempered" tour, featuring Baroque masterpieces by Albinoni, Bach, Handel, Vivaldi and more.
With nearly twenty performances across the United States, the tour begins today, October 4, 2014 in Seattle, Washington and ends Sunday, November 2, 2014 in New Brunswick, New Jersey.
"It is an honor for our orchestra to tour with an artist as talented as Branford Marsalis - especially in our 50th Anniversary Concert Season," remarked Peter H. Gistelinck, Executive Director of The Chamber Orchestra of Philadelphia. "The Chamber Orchestra is grateful to be chosen by CAMI - a top arts management company in the country - for this great opportunity. We are excited to bring our music beyond the Greater Philadelphia region to audiences throughout the United States."
"CAMI is thrilled to be bringing these two great musical forces together," commented Mark S. Maluso, Vice President of Columbia Artists Management Inc. "We are excited to present a collaboration that highlights and combines the talents of these outstanding artists. The "Well-Tempered? tour - featuring Baroque music performed by saxophonist Branford Marsalis and The Chamber Orchestra of Philadelphia - is sure to be a captivating concert experience."
The national tour is set to travel to the following cities: Seattle, WA; Bellingham, WA; Arcata, CA; Chico, CA; Folsom, CA; San Luis Obispo, CA; La Jolla, CA; Las Vegas, NV; Scottsdale, AZ; Oxford, AL; Columbus, GA; Charleston, SC; Charlotte, NC; Blacksburg, VA; Lexington, KY; Binghamton, NY; Rockville, MD; Union, NJ; New Brunswick, NJ. (complete as of 4/23/14; subject to change.)
Branford Marsalis, renowned Grammy Award®-winning saxophonist, Tony Award® nominee composer and NEA Jazz Master, is one of the most revered instrumentalists of his time. Leader of one of the finest jazz quartets today, and a frequent soloist with classical ensembles, Marsalis has performed as a featured soloist with such acclaimed orchestras as the Chicago, Detroit, Düsseldorf, and North Carolina Symphonies and the New York Philharmonic.
Columbia Artists Management Inc. (CAMI) is an international leader in managing the careers and touring activities of the world's most prominent performing artists and institutions. Led by Chairman and CEO Ronald A. Wilford and the managing partners of CAMI's subsidiaries, the company has been on the forefront of performing arts management and production throughout the world for eight decades.
The Chamber Orchestra of Philadelphia is a founding resident company of The Kimmel Center for the Performing Arts and performs from September through May in its home, the intimate Perelman Theater. For information, please contact The Chamber Orchestra at 215.545.5451 or visit chamberorchestra.org.