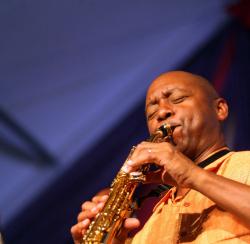 BRANFORD MARSALIS CAPS HIS NEW ORLEANS JAZZ FEST 2014 WITH A GRAND FAMILY REUNION
Saxophone colossus Branford Marsalis knows how to close out a Saturday (April 26) at the New Orleans Jazz Fest: Bring brother Jason and father Ellis onto the Jazz Tent stage for a chilling account of "St. James Infirmary." Their whiplash rendition opened with a doom-laden bass solo by Eric Revis, and unscrolled with all the darkness that three natives of New Orleans can bring to a dirge that is in their blood.
It was a glorious climax to a program that showcased Branford Marsalis' powerful working band. In addition to Revis, the quartet includes Joey Calderazzo on piano and Justin Faulkner on drums. Thanks to them, the energy never dropped when Marsalis stepped away from the spotlight.
Faulkner plays with the soul of a dancer: athletically leaping across his kit, touching down with a roll on the toms, a snare drum rattle, an off-meter thump, and a shimmer of cymbals. Those displays of percussive color came together in convincing musical phrases — sometimes very fast phrases! At every turn, Faulkner proved the supportive accompanist — and sustained the musical drama in extended solos.
Calderazzo was equally magnetic. He swung and he thundered and sometimes he tinkled the ivories, drawing an orchestra of sounds from his concert grand. He can speed with the best and slow things down to milk a single note for its meaning — and his arguments were always underpinned by a powerful harmonic imagination.
You need to know about harmony to work with Branford Marsalis. The saxophonist was Mr. Harmony on Saturday — taking apart original compositions and familiar themes that included "Teo" by Thelonious Monk and Irving Berlin's "Cheek to Cheek."
And, this wasn't some cold, intellectual exercise: Marsalis kept the melodies up front, too, making his show an ear-snagging experience for a diverse festival crowd. At times, members of the audience could be heard whistling along; and they readily joined in with handclaps when the music briefly took a turn toward gospel.
What was most impressive on Saturday, however, was the reedman's sound on both tenor and soprano saxophone. Like a great singer, Marsalis told stories with his breath and body, conjuring canyon-deep reverberations, woodland piping, blues cries and seductive whispers from his instruments. And, like a great storyteller, he brought those effects into focus, making every note count, as he sprang delightful surprises and created a world in the round.