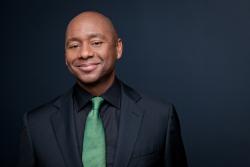 Branford Marsalis Quartet delivers knockout punch
SANTA CRUZ -- As the Branford Marsalis Quartet opened its late show Monday at the Kuumbwa Jazz Center, drummer Justin Faulkner jabbed like a boxer. Hook. Uppercut. Jab, jab, jab. The band's music was raw and rumbling, almost violent -- but played with such scarifying control as to convey a sense of elegance, too. It was Muhammad Ali music: float, sting, deliver the knockout punch.
Composed by Joey Calderazzo, the group's pianist, the tune was titled "The Mighty Sword," which tells you all you have to know.
For the next 90 minutes -- it was the second of two sold-out shows, preceding a two-night run in San Francisco -- saxophonist Marsalis and his group engaged a strategy of virtuosity and cockiness, clarity and clout. It covered a lot of territory -- bebop and 1970s Keith Jarrett rubato, as well as a tune associated with Louis Armstrong -- but it kept coming back to the power-punch and to its own brand of blowtorch Coltrane intensity.
Five years ago, Marsalis hired Faulkner -- 18 at the time -- out of a high-school band program in Philadelphia. There aren't a lot of drummers like him on the current scene; he plays with the unrestricted heat of an Elvin Jones and has a massive bottom-heavy sound that's reminiscent of Michael Carvin. But like those older masters, he can ease up and swing with a feathery bounce, as he did on "Steepian Faith," penned by the late Kenny Kirkland, who held the piano chair in the group prior to Calderazzo.

Here, on soprano saxophone, Marsalis played cat-and-mouse, dodging through the rhythm flow. It was a relaxed and cagey solo, with bluesy asides that elicited shouts from the audience, and he alluded here and there to Wayne Shorter. Over the course of the night (I'd also attended the earlier show) he referenced the blues and swing of Paul Gonsalves, the aerated gruffness of Illinois Jacquet, the open roll of Sonny Rollins.
Marsalis has been called a chameleon, but he's really a consolidator, who processes jazz history through this quartet, which has become his voice. (Calderazzo and bassist Eric Revis have been with him for 15-plus years.) He advances the history, too.
Thelonious Monk's "52nd Street Theme" followed, but it isn't likely that you've heard it played like this.
The group pounced on the familiar theme, shattering it, with Marsalis, on tenor, delivering shards of the melody through a free-jazz maelstrom. Calderazzo's solo -- long, long phrases knotting and unknotting -- found the percussive connection between Bud Powell and Cecil Taylor. Marsalis leaped back in with streams of 32nd notes, then started breaking up the flow, inspecting Monk's tune from various angles before the song finally emerged as we know it -- like bebop, sort of.
It was an exercise in form out of chaos.
The next tune was about form out of silence: "As Summer into Autumn Slips," by Calderazzo, is a wisp of a ballad, pastoral in spirit, lying somewhere between Sir Edward Elgar and, again, Wayne Shorter. Of course, Marsalis didn't let it stay there; he slowly escalated his snake-charmer solo on soprano into a wildfire. Every tune was like this, with a steady transformation of mood and form, volume and density.
Fire and brimstone followed, with Marsalis on tenor, displaying a broad, velvet tone, like late John Coltrane, but bordering on the raucousness of Albert Ayler.
This closing number -- Marsalis didn't announce its title -- was the most bruising yet. The storm abated long enough for Revis to improvise a charmer of a solo, folk-ish and fat-toned (like Jimmy Garrison), unfolding with quiet logic (like Bach) -- and turning throbbing and muscular (like Charles Mingus), thus leading the way for the group's last assault. It was taken at a scary tempo and driven home by Marsalis's sanctified burn.
"Thanks for listening," he said, leaving the stage.
For its encore, the group played "Do You Know What It Means to Miss New Orleans," the tune made famous by Armstrong and Billie Holiday. Marsalis, from New Orleans, played it in the manner of Sonny Rollins, who is from Harlem. Marsalis connected the dots, strolling and rolling and swinging like crazy; over and out.