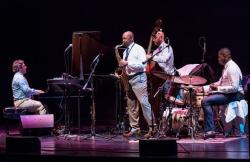 Review: Branford Marsalis Quartet at the Lobero Theatre
Santa Barbara Independent
"It's going to get kind of funky tonight," said Branford Marsalis upon taking the Lobero stage, adding, "and it's going to be fun." The artist and his current quartet delivered on both counts, as the group's 100-minute set flew by, with each extended composition revealing another aspect of this consummate musician's mastery. The opener, "The Mighty Sword," featured Marsalis on soprano sax, an instrument he wields with a combination of sophistication and power comparable to that of the late John Coltrane, an acknowledged inspiration for much of what this quartet does. Pianist Joey Calderazzo added plenty of funk to this otherwise straight-ahead post-bop blast-off.
Three quarters of this extraordinarily cohesive band has been together for decades. The one relative newcomer, drummer Justin Faulkner, is an amazing find, and his playing throughout the night was a revelation. Whether he was providing soulful rhythmic support with his brushes to the heartache of a ballad or slamming the toms to drive Marsalis on tenor sax into hyperspace, the results were always refreshing and in the pocket. Bassist Eric Revis flowed seamlessly within the pulse until bursting forth in a shower of strummed chords for the encore on something called "Blues Permutation."
With every tune of such high quality and emotional impact, it's hard to pick a favorite, but the group's clever take on the classic standard "Cheek to Cheek" certainly deserves some special recognition. Marsalis has refined his approach over these many years to the point where everything that happens in one of his shows serves the overall effect. It's all about the songs, and the way these guys play, you'll never forget them.