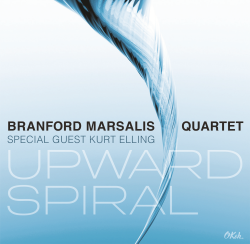 UPWARD SPIRAL OUT TODAY!
Upward Spiral - New Album from the Branford Marsalis Quartet with special guest Kurt Elling

Order via Amazon
Order via iTunes
Stream via Spotify
Vinyl out July 18

Listen to the Music

Watch the Upward Spiral EPK via YouTube and learn more about the album from the musicians themselves. Branford Marsalis, Kurt Elling, Justin Faulkner, Joey Calderazzo, and Eric Revis all took breaks during the Upward Spiral recording sessions to provide us with insights into the album's creation.

"...there's nothing more arresting in either man's portfolio. Beauty becomes these musicians."
-Dan Bilawsky, AllAboutJazz.com

"...the Marsalis-Elling intentions are plenty good, and the road they pave could well bridge over any chasm and end at an innovative musical heaven."
-Jack Goodstein, BlogCritics.org
BRANFORD MARSALIS QUARTET + SPECIAL GUEST KURT ELLING TOUR
The BMQ with special guest Kurt Elling will be touring Europe in June - July 2016 and March - April 2017. The band tours the U.S. September - October 2016, January - February 2017, and May 2017.

For the latest tour information and details regarding all of Branford's touring, including his classical performances, please visit the tour page.