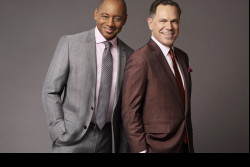 Music Review: Branford Marsalis Quartet with special guest Kurt Elling - 'Upward Spiral'
As explained in the notes on the Branford Marsalis Quartet's album Upward Spiral (featuring Kurt Elling), this is truly a collaborative effort. Everything about the album, from the instrumental musicians' desire to work with a vocalist, to the choice of that vocalist—although when that choice is Kurt Elling what other choice is there—to the choice of material, is the result of "serious musical debate" creating what Marsalis calls "a true partnership."
"I usually reject the word 'collaboration,'" Marsalis explains, "because it implies a third thing from that which each collaborator does well. I don't need a collaborator to do what I normally do, and Kurt doesn't, either." The idea for the new album was to get together to do something different. "The goal here, even though he sings lyrics, was to highlight Kurt's voice as an instrument." In effect, Upward Spiral was not intended to be just another vocalist fronting just another quartet.
Now while in any artistic endeavor there is often a great chasm between what was intended and what resulted, and in spite what is oft said of good intentions—the Marsalis-Elling intentions are plenty good, and the road they pave could well bridge over any chasm and end at an innovative musical heaven.
If there is any vocalist's voice that works like musical instrument, that voice belongs to Kurt Elling. Performance after performance he has made that abundantly clear. He plays his voice like Marsalis plays his sax. You put him together with an uncompromising set of musicians, a "hard hitting band" that treats him as an equal, and you've got a recipe for something out of the ordinary. On this album intentions are realized.
Read full article on blogcritics.org