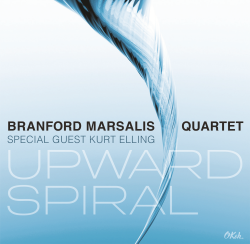 Review: The Branford Marsalis Quartet with Special Guest Kurt Elling: Upward Spiral
4 STARS
To one extent or another, jazz has always maintained a discriminatory dividing line between vocalists and instrumentalists. Instead of being viewed as equals—artists on par with all the rest, possessing the same good sense, skill, and stake in an artistic outcome—vocalists have often been unfairly stigmatized and interned in a separate category. But all of that has slowly been changing, due in no small part to a large and continually growing crop of vocalists who are consistently raising the bar.

For the past two decades, the one and only Kurt Elling has been a central figure in that category. He's both world-wise and street smart in his moves, able to touch on highbrow topics and base emotions with equal success. There's been a hint of vanity in some of his fine art, but it's never there without just cause. The man acknowledges his influences but remains a school of one, a force of nature who's capable of covering more ground than almost anybody. There's simply nobody else who's better suited to enter into an artistic agreement with one of jazz's most outspoken personalities—saxophonist Branford Marsalis.

Whether on or off the bandstand, Marsalis doesn't mince words or ideas. Due to that fact, few vocalists are really up to the challenge of entering his orbit and thriving in such a climate. In Elling, however, Marsalis has found one who's every bit his match. The saxophonist and his quartet mates are able to telescope focus toward Elling's warm, strong, and pliant voice, and Elling is able to accentuate the inherently melodic and lyrical qualities in this group's work. The beauty in Marsalis' music isn't cited often enough, as many tend to focus exclusively on the edgier side of his sound. This project rectifies that problem.

This playlist is as eclectic as one might expect given the architects at the drawing board. Everybody from saxophonist Sonny Rollins to vocalist Elis Regina and pianist Fred Hersch to poet Calvin Forbes is referenced in one way or another, and the music is suffused with graciousness, beauty, and, on occasion, heartbreak.